How to download/record/save/capture Real Media Real Video Real Audio Windows Media QT stream [RTSP, PNM, HTTP, MMS]
StreamBox VCR Suite 2.0 (Windows)
StreamBox VCR can record:
Real Media streams through HTTP, RTSP and PNM
Windows Media streams through HTTP and MMS (limited support)
QuickTime streams through HTTP (limited support)
StreamBox VCR Suite contains StreamBox related software needed to capture media streams on the Internet. It comes in a single installer package and doesn't need any further patching.
StreamBox VCR Suite 2.0 contains:
StreamBox VCR v1.0 Beta 2, Beta 3.0, Beta 3.1, Beta 3.1 SMF (outdated)
StreamBox VCR v1.0 Beta 3.1 SMF+
StreamBox VCR v1.0 Beta 3.1 SMF+turbo
StreamBox Ripper v2.009
RealAudio Renamer
You need only StreamBox VCR v1.0 Beta 3.1 SMF+, StreamBox VCR v1.0 Beta 3.1 SMF+turbo and probably StreamBox Ripper v2.009, RealAudio Renamer.
Outdated versions of SVCR are provided in the 2nd suite for no reason. You don't really need them.
StreamBox VCR v1.0 Beta 3.1 SMF+turbo supports the fastest connection and should be used first. In case of a problem you may also try StreamBox VCR v1.0 Beta 3.1 SMF+.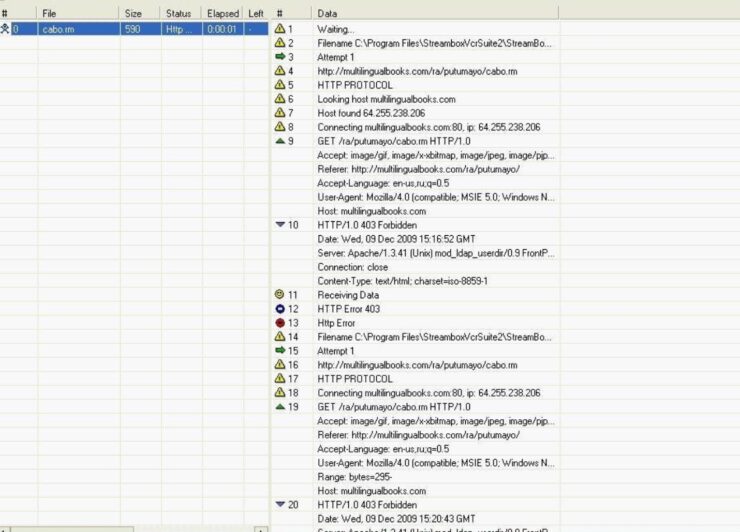 SVCR can postprocess the following metafiles:
.RAM (Real Media),
.ASX (Windows Media),
.SMIL (RealAudio, RealVideo, QT Video content),
.PLS (MP3 stream),
.MOV (QT)
to derive streaming media links. File system prohibited characters are NOT removed from filename. So while saving a file (especially when it's added after postprocessing), don't forget to check its filename for disallowed characters (i.e. don't use symbols like ':', '/', etc. prohibited by your filesystem). Otherwise, you won't be able to save the file.
SVCR works with the following protocols:
HTTP,
FTP,
RTSP,
PNM (TCP), PNM (HTTP),
MMS (TCP), MMS (HTTP),
HTTP as PNM (HTTP),
HTTP as MMS (HTTP).
You can use Auto option to automatically define protocol.
HTTP Proxy servers are supported. Streambox VCR allows to resume a recording of an incomlete stream.
SVCR is one of a few programs that can record RealMedia (audio and video) streamed through PNM protocol (such URLs start with pnm://)
I don't recommend this software anymore, because of several reasons:
There is no support for the newest Real servers.
QuickTime and Windows Media support is very limited.
SVCR crashes if you try to record more than 5 streams simultaneously.
SVCR can't record password-protected streams.
There is no official download available.
Product is no longer developed.
Streambox.com no longer distrubutes its streaming video recording software. Streambox VCR can not be legally used in the US.
Remember that downloading software from unknown sources can cause problems to your system. If you still want to download the illegal version we recommend to use a firewall and a good antivirus program to protect your computer from viruses, spyware and also from hacker attacks.