Capture STREAMING video and audio (radio shows, online TV broadcasts, video clips, audio archives, podcasts). FREE to try.
Replay Radio 8 Editor's choice! – is the EASIEST, most POWERFUL way to AUTOMATICALLY capture/record, schedule and convert streaming Video or Audio delivered to your PC. With Replay Radio you can RECORD audio/video streaming from the Internet (like video clips and music), or audio/video from a variety of devices like TV Tuner cards, Webcams, or radios – just about anything attached to your computer:
Record Thousands of Radio Shows & Stations.
Schedule Recordings.
Auto-Sync to iOS or Android Phones/Tablets.
Easy: Just Pick Shows or Stations from the Built-in Guide.
Record Multiple Shows Simultaneously.
Convert to Many Audio Formats.
ALL the popular formats are supported, including Windows Media, Real Audio/Real Video, Streaming MP3, Flash Animations and Flash Video. Plus, Replay Radio includes an audio recorder that can record ANYTHING you can hear.
With Replay Radio you can automatically CONVERT your captured media to all the popular formats: MP3, iPod Video, iPod Audio, iPod bookmarkable Audiobook, AAC, WMA, WMV, AVI, MPEG, Sony PSP Video, WAV, OGG, 3GP.
There's no better way to take control of your Media. And best of all, it's really EASY to use.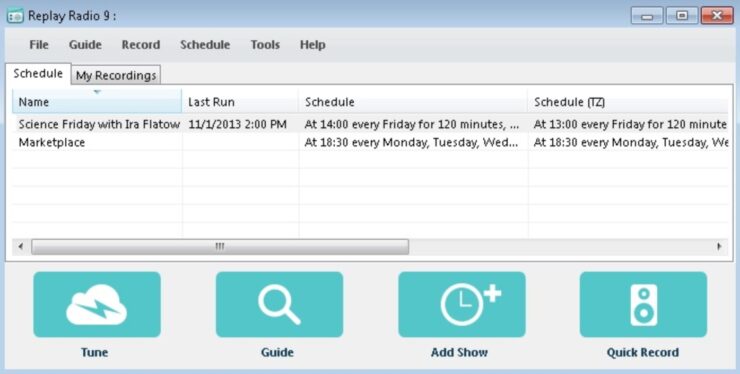 Capture online media
For a quick and easy way to generate QR codes, You can utilize the Adobe Express QR code generator. This feature allows users to quickly and easily access the Replay Media Guide on their mobile devices and scan QR codes to instantly start recording their favorite radio shows and podcasts. By integrating QR codes, Replay Radio offers a seamless and efficient way for users to keep up with their favorite programs, even when they're on the go. Users can simply scan the QR code to start recording, eliminating the need to manually search for the show or podcast. This feature saves users time and provides a more convenient and user-friendly experience.
All the POPULAR formats are supported, including:
Shoutcast (iTunes radio) / Live 365 / Icecast (MP3 http:// streaming audio), streaming AAC files (icyx:// protocol). Replay Radio can split and tag MP3 recordings from these online radio stations automatically;
Windows Media audio and video streams (http://, mms://, rtsp://);
Real Media, Real Audio and Real Video streams (http://, rtsp://);
QuickTime (http://);
Flash .SWF objects (http:// );
Sirius and XM Online radio;
Nullsoft video streams/AOL .NSV videos (http://, unsv://);
Plus, Replay Radio includes an audio recorder that can record ANY sound produced by your sound card. And it can also record from Webcams attached to your PC, TV from TV Tuner Cards.
The Most ADVANCED Recording Technology
Replay Radio is THE ONLY software that combines Stream Capture, Audio Recording and an Enhanced Podcast Client in one EASY-TO-USE interface.
Stream Capture lets you save the bits and bytes of streaming audio and video directly from the internet. Replay Radio supports all popular formats: Windows Media audio and video, Real Audio & Real Video, Nullsoft video, Flash Animations and Flash Video, Shoutcast/Live 365/Icecast MP3 streaming.
The benefits of this technology are enormous – you can capture multiple streams SIMULTANEOUSLY (download 10 or more streams with most broadband connections), and you get PERFECT reproduction at the smallest possible size. Besides Replay Radio has SPECIAL customizations for MySpace, YouTube, Google Video and other video download sites. Plus, unlike audio recording programs, no background noises creep into your recordings, and the sound card remains FREE for normal use. Replay Radio also converts captured audio to .MP3 or iPod bookmarkable .M4B files.
Audio Recording records ANYTHING you can hear on your PC, and saves it to MP3, WMA, WAV, OGG, AAC file on your hard disk. This means that you can record ANY format, even ones that haven't been invented yet. And it's GREAT for making personal copies of Audio Books or other content. You can record XM Radio and Sirius using this method, too. Special output options like Eliminate Dead Air and Compressed Speech make Audio Recording even more USEFUL.
The Enhanced Podcast Client built into Replay Radio gives you EXTRA capabilities the big guys can't do. ANY podcast can be converted to a bookmarkable file on your iPod (so you can return to the place you were last listening). BitTorrent (p2p network) Podcasts are supported. You can download individual episodes with ONE CLICK. There's a lot more, too.
Replay Radio is really EASY TO USE
Despite all the power under the hood, setting up recordings is very simple: Just open the Media Guide within Replay Radio, pick your show, station or Podcast, and it's automatically scheduled for recording. The Integrated Replay Media Guide contains:
1'200+ Radio Shows,
5'400+ Radio Stations,
21'000+ Podcasts,
500+ Online TV stations.
If it's not listed in the Guide, you can also use the built-in URL finder to set up a recording. Simply open the URL Finder, play the station you want to record, and the URL for the audio or video feed is automatically detected. One more click adds that station to your recording schedule. You can also use the URL Finder to record video and audio clips, too.
iTunes, iPod and portable MP3 player support
If you have an iPod or another MP3 Player, Replay Radio has some very HANDY ways to copy files to your device. For iPods, you can make Bookmarkable .M4B files, which let you make bookmarks in long audio files. All recordings can be AUTOMATICALLY copied to any MP3 Player including iPod or iTunes.
Requirements:
WINDIOWS 7/Vista/2000/XP or Intel Mac running Windows XP with Bootcamp or Parallels Desktop for Max OS X
High-speed INTERNET connection recommended.
MP3 Player or CD/DVD burner recommended but not required
Price: $29.95 per year, or $2.95 Monthly (30 day unconditional money back guarantee).
Download Replay Radio. It is free to try.
Buy Replay Radio at Applian for $29.95 per year, or $2.95 Monthly
Buy Replay Capture Suite (including Replay Radio) at Applian and save 50%!!!
Applian Technologies Secure Ordering – 100% Secure Purchase
The order process is protected through a secure connection. Your personal data is encrypted and cannot be accessed by a third party. We do not record your credit card information.
Orders are processed by Authorize.net